so im here updating barely 2 hours after my previous update. lucky for you guys who read my blog huh? :)
i think this shall be a wordy post, because i just feel like talking about stuff.
well so today is deepavali.
woke up at noon, when the sun was already high in the sky.
came down and munched on an egg and tuna omelette, thinking about what i was gonna do with my day ahead which was devoid of plans.
texted my bestie, who's also oh-so-conveniently my neighbour, and my chaffeur whenever we head out :D so arief and i headed to pyramid. the drive there was surprisingly short, i had expected the roads to be packed chock-a-block with vehicles ; after all, it WAS a public holiday.
however, the mall was pretty much the same as you might expect it to be on any other public holiday - packed with people.
picked up a charcoal mask from daiso
yes, for those of you who have been living under a rock for the past month or so, daiso has finally opened in sunway pyramid! and you can get any item there for rm5! they sell practically everything, from underwear to umbrellas, from bedroom slippers to biscuits.
if you didnt know, daiso is located next to toycity and opposite living cabin.
i've heard good reviews about the cosmetic products that they carry, which was why i decided to try out a rm5 facial product in the first place - any other rm5 product and i wouldve been sceptical of it causing my face to break out in boils, my nose to swell up, my lips to bulge, etc. ok exaggerating.
and so, back to my day.
had a cendol with arief at paparich, where i totally forgot to tell them to omit the kacang merah. i hate kacang merah!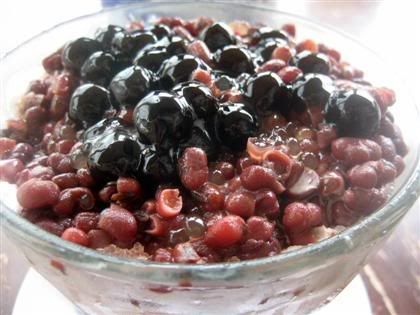 eww!
i remember once i was ticked off because my friend didnt tell the waiter to exclude kacang merah when she ordered for me, so i flicked one at her, only to have the cursed bean fly off in another direction and hit someone from the next table. oops! :D
and a disgusting revelation i now present to you!
red bean kit kat? yuck!
haha yes so enough of the digression and back to my day.
spent time there at papparich just talking about our lives and stuff. decided to leave right after that, because we couldnt stand it that the world and his wife had decided to come to pyramid today and it was so darn crowded and stuffy.
got home and slept for a while, and then went out again to the park, where i met sheng nee and leonard. went to yumcha and yakked about flirtychicks, college, and funny people, hah.
came back to find the house empty again. read 4 of my old doraemon comics, ate 3 steamed eggs cos i was too lazy to cook anything else.
since i had so much time on my hands, tried out my newly bought daiso product.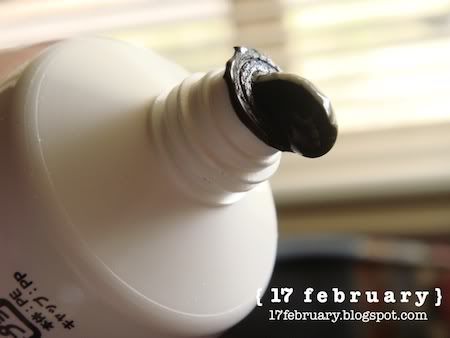 it comes in a thick gooey, sticky paste, and the concept of this mask is somewhat akin to biore's nose strips, where you peel it off your face and its supposed to extract all the blackheads.
sooo, you apply it onto the desired area..like this..
like the person in this picture, i only applied it to my nose.
but you can apply it to your whole face as well if you want! like this person! :D
haha ;)
ok, then you wait for it to dry, and then peel the whole thing off!
there will be a cooling sensation when it dries, and your skin will feel sort of..tighter, if you get what i mean. dont apply it too thinly though, or it'll tear and will be difficult to peel off. i dont have that many blackheads, so its not like there was a glaring difference, but i must say that there was no doubt that my skin had visibly improved. pores had shrunk, and my nose definitely looked clearer.
thumbs up for all those reviews i read, cos they were true! the mask does work pretty well. while i would say that its performance isnt stellar, its still really, really good, considering that its priced at only rm5.
NOTE
: if you're looking to get the mask as well, be careful not to accidentally get the cleasing cream, which looks similar! make sure that you see the words 'masque' on the tube, and if the daiso you're in has stuck on the sticker of a cartoon girl with a black mask on her face, even better.
rolled around on the couch watching America's Next Top Model while reading my dad's complimentary high society business magazines.
and now, i am thinking.
thinking.
THINKING.
so many things. my minds pretty much 24/7 occupied. my train of thoughts are really random and disconnected.
i find it amusing that some people think that im someone who's flippant and flaky, when i think that im someone who's quite capable of having deep, profound thoughts as well. hey, stop smirking! :D i DO have grave, solemn, significant thoughts at times, even if most of what goes on in my head are spontaneous, irrelevant thoughts. :)
i think that its funny how so many people are caught up in such insignificant things in life, and think that they hold such gravity. seriously, how much can someone know at 18, or even 20 years of age? things like popularity, looks, puppy love? call me old, call me outdated, but i think its funny that people can place such importance in things which are so fleeting.
i love doraemon
signing off now :)