i feel like eating...
a strawberry cheese crepe!
random much?
:D
so yes i have so many things to say and there are so many pics in my camera waiting to be uploaded but i dont think i have the time to blog down everything thats going on right now cos im so so so busy!
ok one very recent thing that i've done is..
sign up for the Penang Bridge International Marathon!
(PBIM)
because THIS girl talked me into doing so!
rachel tan!
ok no lah actually i was also quite interested in joining..and she certainly gave me the encouragement to do so! :D
yes, 13.5km, from mainland to island, along with like 5000 (rough estimation) participants from all over the world.
i'll be going for the fun run, which is only 10km. aim to finish in AT LEAST 90minutes so that i can get the certificate!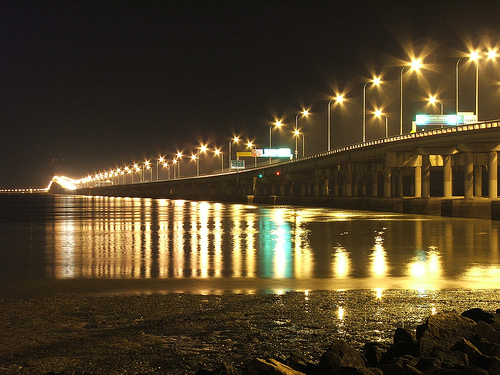 doesn't it look pretty at night?
so while one is in penang, one has to experience penang, yes?
for instance, visit the batu ferringhi night market.
eat the famous penang road cendol
stroll along the white sandy beaches
eat more yummy local fare :D
gosh there's so many different foods in the above picture i dont even know the names of like half the things in there.
char koay teow? or chien? roti babi? curry mee? assam laksa? popiah?
and take the chance when there do many many other things!
however, i'll be lucky if i get to do even one of the things i mentioned above!
because...
PBIM's on the 21st of november, and my final exam's on the 22nd of november!
will have to rush back right after the marathon and jump straight in with the books.
gahh i must be ding dong!
well no sweat, i've already signed up for it and promised rachel that we're going together. and regardless of the odds, im really looking forward to it! :)