sup y'all ?
its only 42 more days to CHRISTMAS!!
*jingle bells, jingle bells*
yay! my favourite time of the year!
i just love the festive feel in the air at this time, how the malls go all out with the decorations, the mad discounts the shops give, the yummeh food that christmas parties have, the people i get together with, and the presents!
:D :D :D
yes so i shall start making a wishlist!
i seriously seriously want this bag! all my bags up till now have been affordable, cheaper ones, and i'd really like to get something of a better quality which would last me longer. :)
this particular design is all out of stock at all the charles and keith outlets i went to though! :( asked a sales assistant if theres a possibility that C&K would repeat pieces, and she said maybe. so fingers crossed for this one to come back!
2.
new pieces in my wardrobe!
beeyootifull!! dresses! shoes! tops! accessories! might have gone overboard with the pictures but, aren't they absolutely gorgeous?
midnight fantasy by britney spears
i first had a whiff of midnight fantasy when i was in australia, and fell in love with its sweet, dreamy, melancholically romantic scent. it brings to mind tranquil, moody images of wandering through the opulent hallways of a hauntingly beautiful palace on the night of a full moon, decked out in colourful gems and luxurious gowns, going for a late ball with an abundance of sweets on the banquet table and mist drifting about on the floor.
this scent is so beautiful and every time i catch a whiff of it, im reminded of australia, where i long to return.
why i sound so deep and emo wan wth.
be delicious by DKNY
love the carefree, delightful, happy, scent of this perfume!
badly need a new pair of shades yo!
got this pair from Nose some time ago for only rm25 (yes only rm25 wth max can u believe it? :D they were on discount) and they fitted me purrfectly! however they came loose at the hinges a coupla months ago, and despite my best efforts to fix them with superglue, it was all in vain.
have been hunting around for another pair of aviators since then but all have failed to meet my standards! please oh please let me find another nice pair soon. i feel somewhat half naked without my sunnies, which i wear all the time outdoors! not wearing them under the sun just makes me feel so wrong. like i left the house forgetting to wear underwear or something. XD
books! i love reading! however much you people around me might think that all i ever think about is sports, entertainment, fashion, food, money, movies, gossip, etc etc, well, you're wrong!
i absolutely ADORE literature too! i love a good book, and could spend my whole day reading! the lure of a well written book is hard to resist once i've picked it up, and the words just encircle me stealthily, draw me sneakily into their midst, and keep me there transfixed and mesmerised in a whole different world in the depths of a place only reached by imagination.
wth that was uber deep as well. but seriously. i love reading.
harry potter! as annoying as harry and his nerdy friends get, i simply love J.K. Rowling's books!
and bet you didnt know that i was a diehard fan of the artemis fowl books by eoin colfer either! the dude's a genius i tell you! all the artemis fowl books are wonderfully written with such intriguing storylines, entire days could go by before i even realised that i have to eat.
which would be a wonderful way for me to loose weight! but i digress. :)
yes and i do know that harry potter and artemis fowl books can be rather pricey, soo...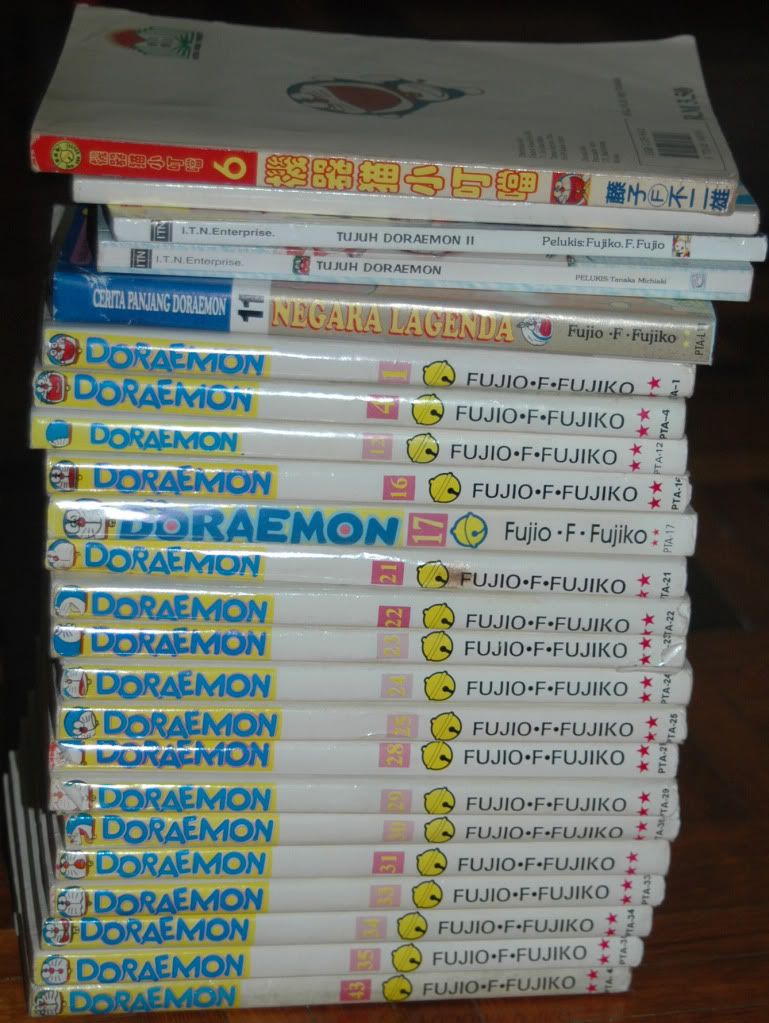 you could get me doraemon comics instead! at only 4.50 per pop :D
i already have most of them though.
doraemon, hearts! :D
all right, so that's pretty much what i'd like to receive for christmas this year. or any other time of the year for that matter.
now, who wants a christmassy, warm, sincere hug?
get me something off my wishlist and i promise you, i give you my SOLEMN, GRAVE AND SERIOUS word, that you would get the warmest, christmassiest, sincerest, hug you have EVER received, from ME!
:D
gotta go hang my stocking up over the fireplace tata!
yes i know its a month too early to be hanging up stockings, and i dont HAVE a fireplace, but to all you annoying contrary logical rational sensible people who are gonna tell me so, HMMPH, and so there!
*flicks hair*
:D